Distilled 25 x
Most vodka is triple-distilled, premium is distilled 5 times. Our flagship Rebel vodka is distilled 25 times. Purity you can pour.
taste purity
Our apple-based spirits made in BC and loved worldwide. Distilled into an award-winning taste.
Tasting Room Location
4400 Wallace Hill Road Kelowna, BC V1W 4C3
TASTING ROOM
FRIDAY 1 - 5 PM
SUNDAY 12-5 PM
WALK-INS WELCOME
Book tastings online, or via e-mail to team@forbiddenspirits.ca
Or just give us a call at 250-764-601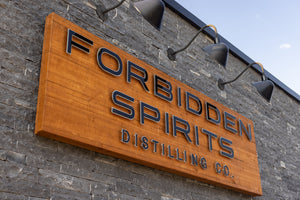 "We were on an e-bike tasting tour and these guys were so kind and patient with our large group. The cocktail sampler flight was loved by all! Beautiful setting! Thanks for having us, we will be back."
Tara Johnson
"This place is very special & amazing! My husband and I came on a Monday afternoon and had the best time chatting to Julia. She is sooo good at what she does and made us a delicious basil martini."
Leah Mary
"Thank you Paul for the wonderful tour and wealth of information about the distilling process and your products! Tasted three drinks, one of each of the vodkas and a mixed drink. Left with one of the nice bottles."
Howard Suissa
Map
4400 Wallace Hill Road
Kelowna, BC
250-764-6011
team@forbiddenspirits.ca
TASTING ROOM HOURS
FRIDAY 1 - 5 PM
SUNDAY 12 - 5 PM
Walk-ins welcome